Easily Create Textures
One STL, Endless Possibilities
With ideaMaker Texture, users can easily create different iterations of the same STL model by applying different patterns to the selected model's surface. It works by creating a concave or convex surface on the designated model according to the values of an image's greyscale.
Skip lengthy CAD processing
After the user selects an image with the desired pattern, ideaMaker will automatically apply the image across the surface of the model and generate the 3D texture. Users can then adjust the settings to the tweak the texture's specifications to meet their requirements. More textures are available in ideaMaker Library.
Click "Learn More" button below to find out how to apply texture in ideaMaker.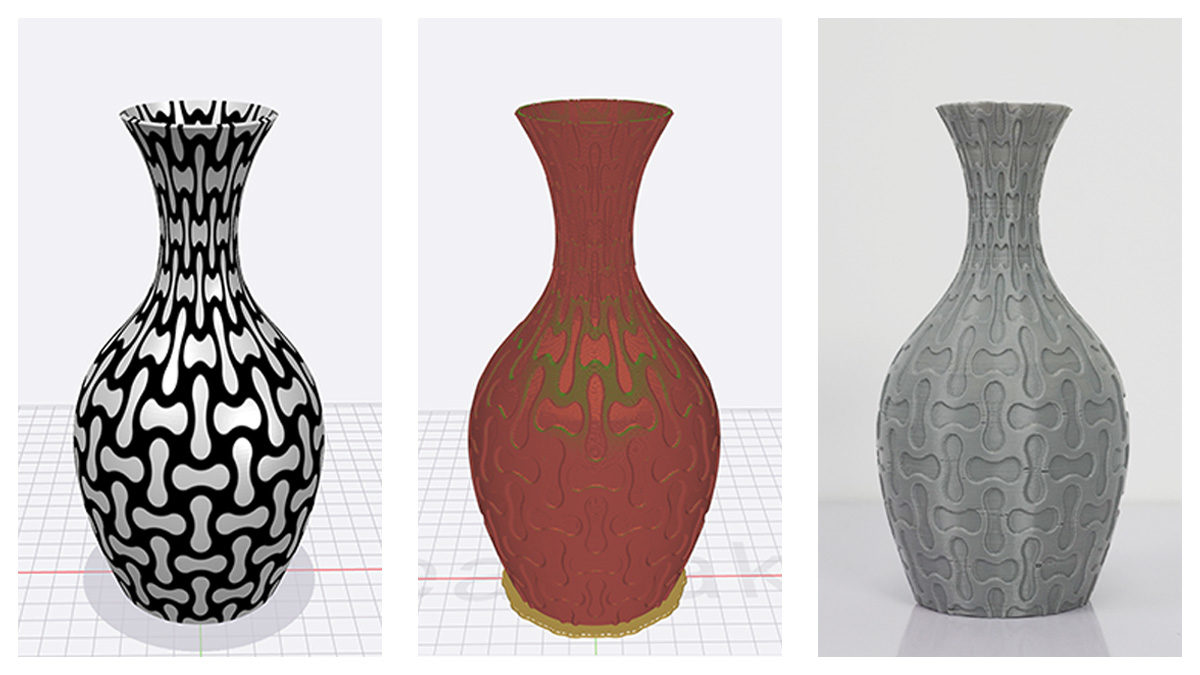 Customize Your Support
Advanced Toolset for Support Editing
ideaMaker is a 3D slicing software that automatically generates support structure while providing a set of tools for manual editing and advanced purposes. Some examples include PVA support, creating a more stable support structure, creating an easy break-away structure, and reducing abundant support.
An Easy Interface and A Smooth Editing Process
Users can begin adding or removing support structures in two clicks. ideaMaker's intuitive user interface allows users to process support structure smoothly, even from angels and different views.
Using Automatic Parameters for Optimization
One Click to Optimize
Powered by sophisticated algorithms, ideaMaker automatically computes the best slicing settings for users. Users can enable automatic optimization with one click, instead of having to manually inspect and optimize multiple parameters.
Balance Cost and Time Without Sacrificing Surface Quality
ideaMaker uses algorithms to compute the slicing parameters for layer height, infill structure, and support structure. By adapting parameters accordingly, the filament consumption and printing time decrease while surface quality is maintained.
Variable Setting for Selected Region
Improve 3D Printed Parts by Fine-Tuning Parameters Region by Region
Use one of ideaMaker's powerful tools to optimize parameters of designated regions despite the global setting. Users have the flexibility to decide the scope of the region. This empowers advanced applications such as improving a 3D printed part's mechanical performance.
Flexible Scope for Region Selecting
Users can decide the scope of the intended region in ways of model group, layers, or overlapped shapes. With the layers and model group, users can designate models in one group, and further certain layers of same model group. Users can also designate the overlapped shape of two models.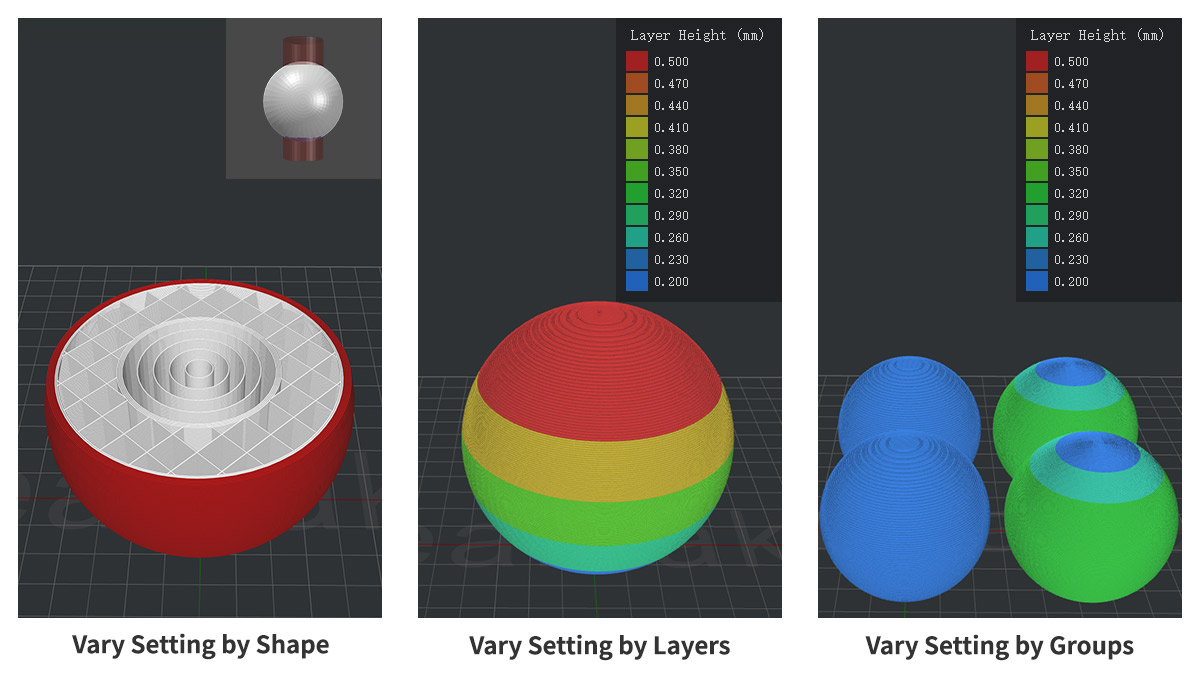 Modify Model Freely
Freely Adjust Models on Demand
Boolean tools are integrated into ideaMaker to help users carve, split, and combine models. This capability is useful in situations involving excessive model size and model personalization. It also saves users the extra time of running CAD software to achieve Boolean operations.
Update Models Quickly and Precisely
Combine graphic interface and numeric setting panels to easily and precisely adjust models while inspecting the result instantly. By using a combination of the rotating model and scaling tool, a user can quickly update models as desired.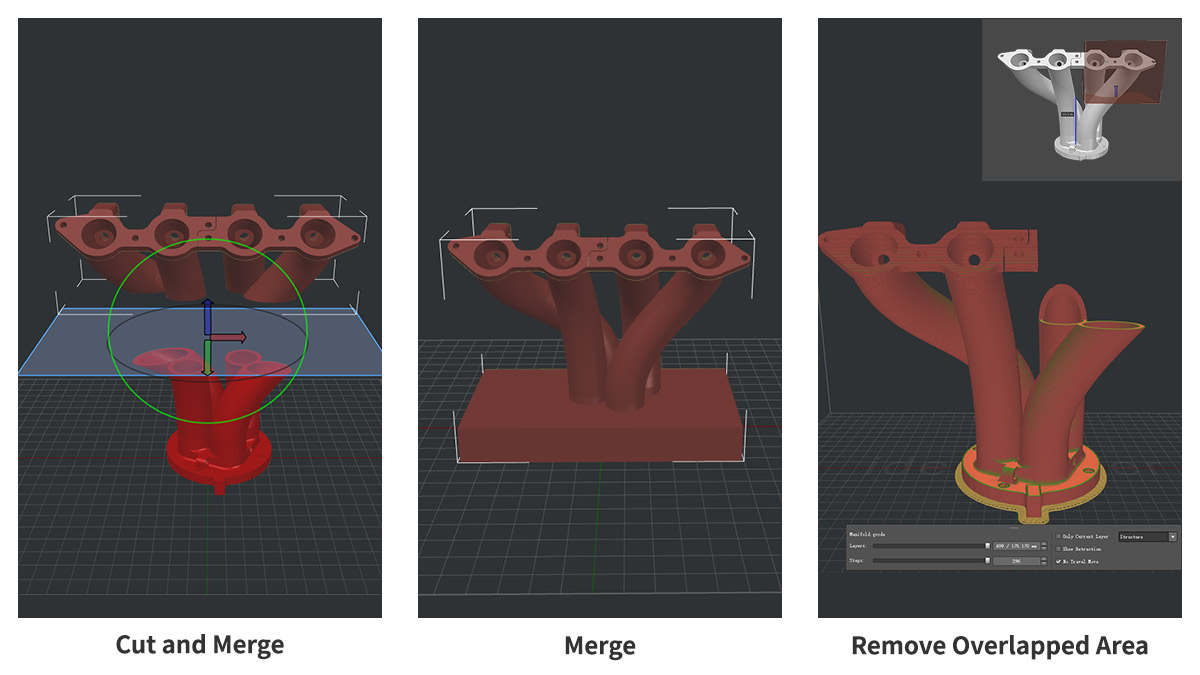 Get Free Template Immediately
Free 3D Slicing Files for Industrial 3D Printers and Filaments
Users can find and download a variety of slicing templates from ideaMaker Library for free. ideaMaker Library contains slicing files that are created for different filaments and printers, not only Raise3D products. This is intentional so that users with both Raise3D printers and filaments and third-party printers and filaments can work with ideaMaker without struggling with calibration.
Enjoy and Contribute to the Community
Raise3D welcomes all FFF users to join and contribute to the ideaMaker community by sharing slicing templates. By helping each other, there will be a growing and strong support network for every ideaMaker user.